A Scrambler Therapy® device is always characterized by the same hardware and software OEM core of artificial neurons, and by the presence of 5 channels, an indispensable condition to maintain the same safety and efficacy performance validated by numerous official clinical studies and thousands of cases of chronic neuropathic and cancer pain.
Scrambler Therapy ® Technology ST-5A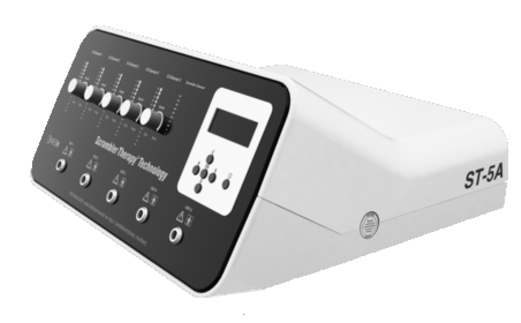 Last OEM version of the Scrambler Therapy® Technology device. In production since 2021 (full made in Italy). To comply the new European Medical Devices Regulation we decided to transfer the device production from Korea (previous generations MC-5A) to Italy. On this occasion the new device was improved in many parts such as mechanics, design, connectors, EMC, quality control. The power supply system now also accepts 110-120V. The new Scrambler Therapy® ST-5A device replace previous model MC-5A.
The scientific literature indexed and published in peer review scientific journals, based exclusively on this technology, shows several clinical studies on:
- Symptomatic relief of chronic opioid-resistant pain.
- Symptomatic relief of chronic neuropathic and oncological pain.
In general, this device in the clinical studies is indicated for forms of severe chronic pain, in particular that which does not respond to other pharmacological and non-pharmacological treatments, including opioids. It is currently the only Scrambler Therapy® device in production.
International distribution (including in the U.S.) is entrusted exclusively to Delta International Services & Logistics